Regular price
$245.00 USD
Regular price
Sale price
$245.00 USD
Unit price
per
Sale
Sold out
A non-refundable deposit of $24.50 USD will be charged within one business day of placing your order.
SKU:
911778
Availability:
Shipping in April 2023.
Share
View full details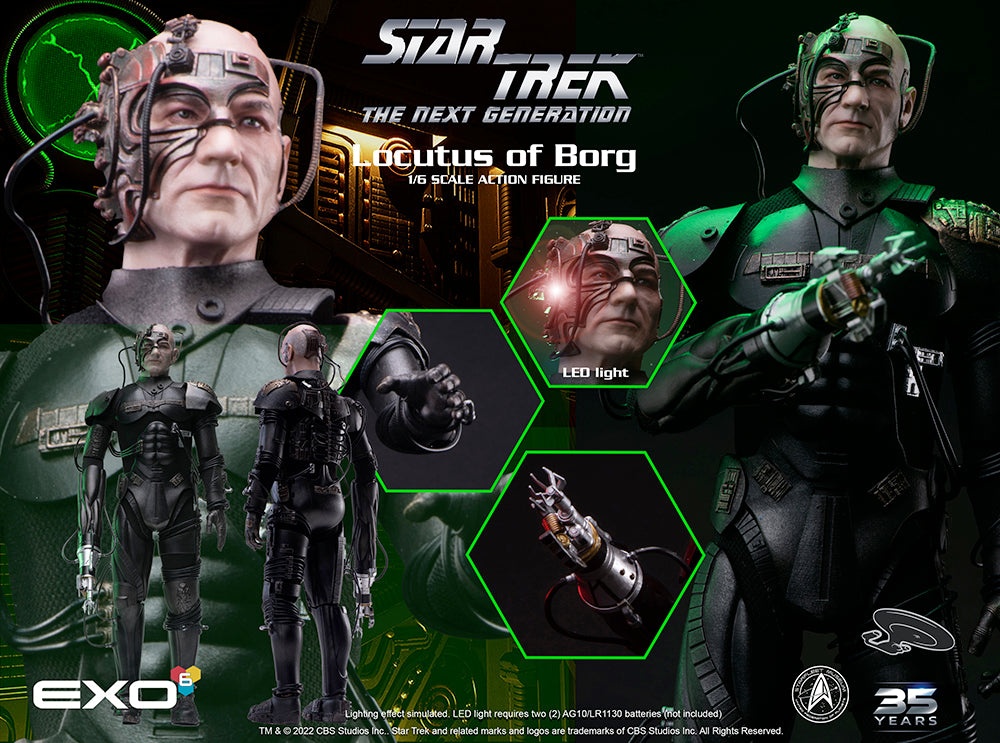 Description
Alter Ego Comics and EXO-6 present the Locutus of Borg Sixth Scale Figure.

EXO-6 is committed to bringing fans the finest 1:6 scale museum grade collectible figures from Star Trek™ that represent the characters in their most significant incarnations.
Captain Jean-Luc Picard of the Starship Enterprise-D faced his most difficult challenge after he was assimilated by the Borg.  This was a major turning point in Picard's life, leaving him feeling responsible for the 11,000 casualties at the battle of Wolf 359 and the destruction of 39 Federation ships.  This battle even had lasting effects on other characters, as Deep Space Nine's Benjamin Sisko blamed Picard for the death of his wife during the battle.
This one sixth scale museum grade figure re-creates the remorseless Borg from the classic Star Trek: The Next Generation episode "Best of Both Worlds, Part II" in exquisite detail. Standing approximately 12 inches tall, every element is reproduced as accurately as possible. The original portrait sculpt of Patrick Stewart reflects the stoic Borg expression and has a battery-operated red LED light in his head to simulate the Borg laser (requires two (2) AG10/LR1130 cell batteries-not included).
The Locutus of Borg Sixth Scale Figure includes:
Articulated Body: More than 30 points of articulation allow the figure to be displayed in multiple poses, approximately 12 inches tall. Note – articulation limited by armor, do not attempt any extreme poses.

A mechanical appendage with articulated hooks and levers terminates his right arm. An additional grasping left hand is also included.

Realistic Portrait: Locutus's emotionless expression shows no feeling for his fellows in Starfleet. Lovingly rendered by a top artist, this excellent likeness of Patrick Stewart as Locutus is specially hand-painted. Locutus's laser is simulated by a red LED light in the head (Requires two (2) AG10/LR1130 cell batteries-not included).

Costume: The spokesman for the Borg wears a black body suit styled after the original costume. Over 30 armor pieces are attached, and specially designed tubing snakes around the entire body.

Display Base: A hexagonal display base will provide additional support for the figure.