Regular price
$215.00 USD
Regular price
Sale price
$215.00 USD
Unit price
per
Sale
Sold out
A non-refundable deposit of $21.50 USD will be charged within one business day of placing your order.
SKU:
911226
Availability:
The Michael Burnham Sixth Scale Figure by EXO-6 is available at AlterEgoComics.com for fans of Star Trek: Discovery, sixth scale collectibles, and Sonequa Martin-Green.
Share
View full details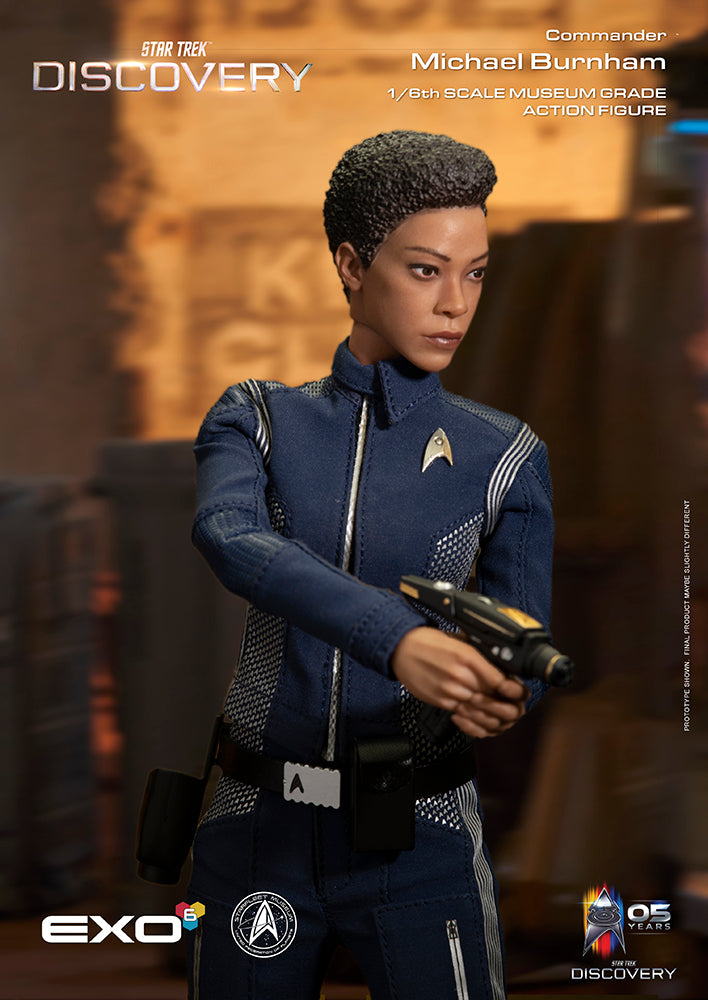 Description
It's a time of DISCOVERY for EXO-6, with the first release from Star Trek's newer shows. Michael Burnham's career was a rollercoaster from First Officer to prisoner to Commander in a very short time. Commander Burnham's release celebrates the 5th Anniversary of Star Trek: Discovery.
Always dedicated to Starfleet, Michael was reinstated to Commander at the end of the first season of Star Trek: Discovery. This sixth scale figure re-creates the character in detail. Standing 11 inches tall, she wears the standard duty uniform of the Discovery crew with silver detailing throughout. She is equipped with the latest in Starfleet technology with complex and detailed accessories that were created using the actual assets used to create the props for the show. The original portrait sculpt of Sonequa Martin-Green has an authentic, hand-painted likeness.
This fine museum-quality collectible figure will be a great addition to your EXO-6 Star Trek collection or an excellent place to start collecting characters from the newer iterations of Star Trek.
The Michael Burnham Sixth Scale Figure features:
Fully Articulated Body: More than 30 points of articulation allow the figure to be displayed in multiple dynamic poses, approximately 28 cm tall.

Realistic Portrait: Michael's portrait is lovingly rendered by top artists, with an excellent likeness of Sonequa Martin-Green. Each head sculpt is specially hand-painted.

Duty Uniform: Meticulously researched, this outfit matches the pattern and color of the original, recreated in 1:6 scale. Details are printed directly on the outfit to better replicate the costume. A belt is included so she can wear the holsters for the tricorder, phaser and communicator. This belt is the "on-board" utility belt and phaser holster as seen in the episode "Magic to Make the Sanest Man Go Mad." Her boots replicate the ones used in the original costume.

Hands: A total of eleven interchangeable hands are included so she can be displayed holding the communicator, tricorder, the Type II phaser and Phaser rifle. Also the Vulcan salute and neck pinch hands reflect her Vulcan upbringing.

Display Base: A hexagonal display base featuring the Discovery transporter pad will provide additional support for the figure.

Autograph card: An informational card that can used to get an autograph from the performer and displayed with your figure.
Equipment:
Michael is outfitted with the latest in 23rd-century technology. The props from Star Trek: Discovery are more complicated than those from any other Star Trek show. The EXO-6 phaser rifle is only 3 inches long but includes over 30 parts. She comes equipped with:
Type II hand phaser. The phaser can be worn in a holster that slides on to the belt. A Type I phaser magnetically attaches to the hand grip and can be removed.

Tricorder: This standard tricorder has a removable medical scanner and can be worn in a holster on the belt.

Phaser rifle: As used on Star Trek: Discovery with flip-up front hand grip and extendable stock.

Communicator: With flip-top grid and can be worn in a holster on the belt.