Regular price
$265.00 USD
Regular price
Sale price
$265.00 USD
Unit price
per
Sale
Sold out
A non-refundable deposit of $26.50 USD will be charged within one business day of placing your order.
SKU:
904943
Availability:
Shipping in October 2023.
Share
View full details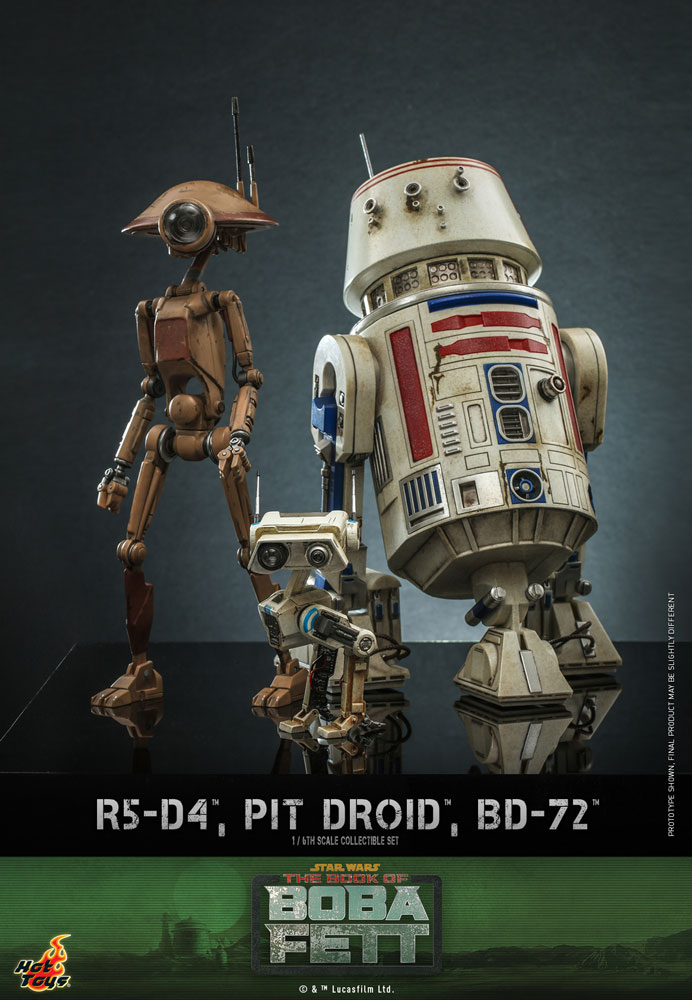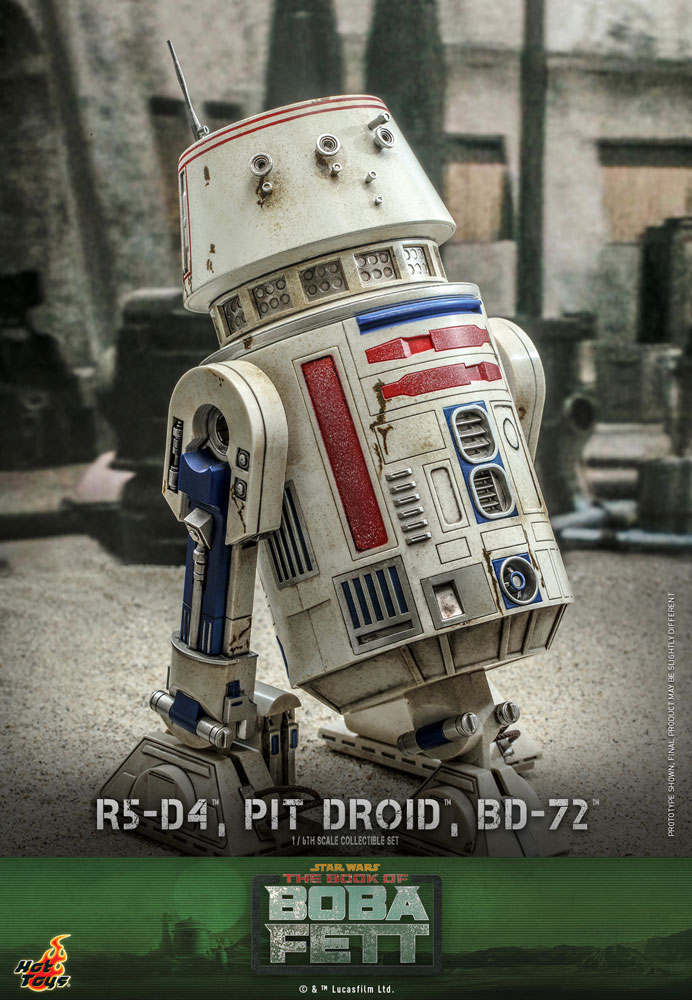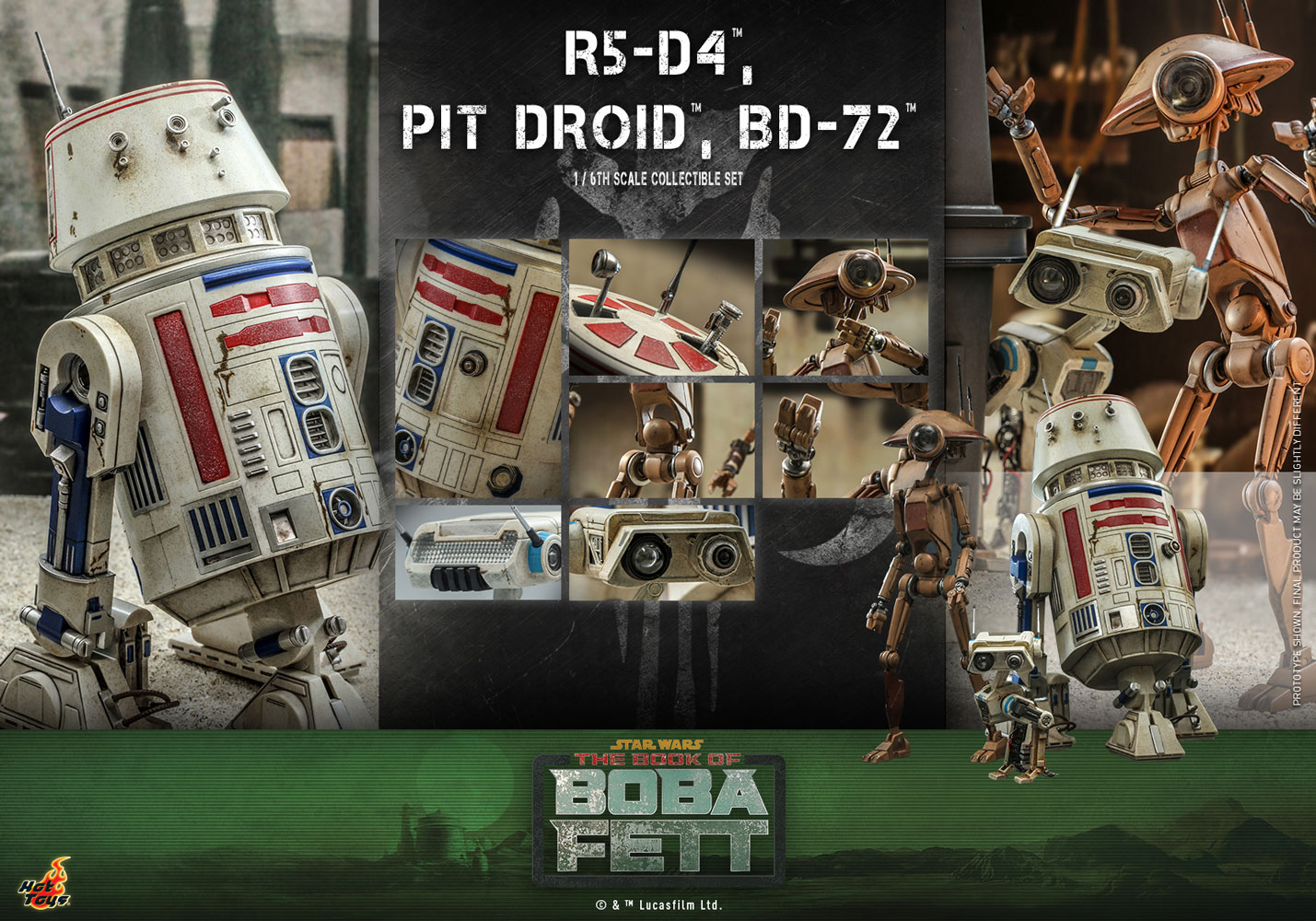 Description
The scrappy proprietor of Hangar 3-5 in the Mos Eisley™ Spaceport, Peli Motto™ helped the Mandalorian™ on his ship and journey with the assistance of a team of hyperactive pit droids and other mechanical assistants.

To further expand its Star Wars collectibles series, Alter Ego Comics and Hot Toys are delighted to officially introduce a sixth scale collectible set of Peli Motto's R5-D4, Pit Droid, and BD-72 companions!
Standing at approximately 20cm tall for R5-D4, 22cm tall for Pit Droid, and 8cm for BD-72, the three droids are crafted with exceptional mechanical details, as well as featuring weathered paint applications and great articulations.
The R5-D4 Sixth Scale Figure features:
Authentic and detailed likeness of R5-D4 in Star Wars: The Book of Boba Fett

Beautifully crafted mechanical body in red, blue and white applied with subtle weathering effects

Approximately 20cm tall

Greatly detailed mechanical construction with 7 points of articulations

Special features including:

Head supports 360° horizontal rotation

One (1) pair of articulated terrain tread legs

One (1) articulated and retractable center tread leg

Highly accurate mechanical body design 
Accessories:  
Two (2) styles of interchangeable antennas

One (1) bad motivator

One (1) restraining bolt (with magnetic function)

One (1) hologram projector
The Pit Droid Sixth Scale Figure features:
Authentic and detailed likeness of Pit Droid in Star Wars: The Book of Boba Fett

Gorgeously detailed mechanical body in reddish brown applied with subtle weathering effects

Approximately 22cm tall

Sophisticatedly constructed mechanical structure with 18 points of articulations

Special features including:

One (1) pair of articulated mechanical graspers

Highly accurate mechanical body design

Enhanced articulation on waist which allows movement including 360° horizontal spin
The BD-72 Sixth Scale Figure features:
Authentic and detailed likeness of BD-72 in Star Wars: The Book of Boba Fett

Beautifully crafted mechanical body in greyish white applied with subtle weathering effects

Highly accurate mechanical body design including robotic lens, and wire details

Approximately 8cm tall

Sophisticatedly constructed mechanical structure with 8 points of articulations