Regular price
$220.00 USD
Regular price
Sale price
$220.00 USD
Unit price
per
Sale
Sold out
A non-refundable deposit of $22.00 USD will be charged within one business day of placing your order.
Share
View full details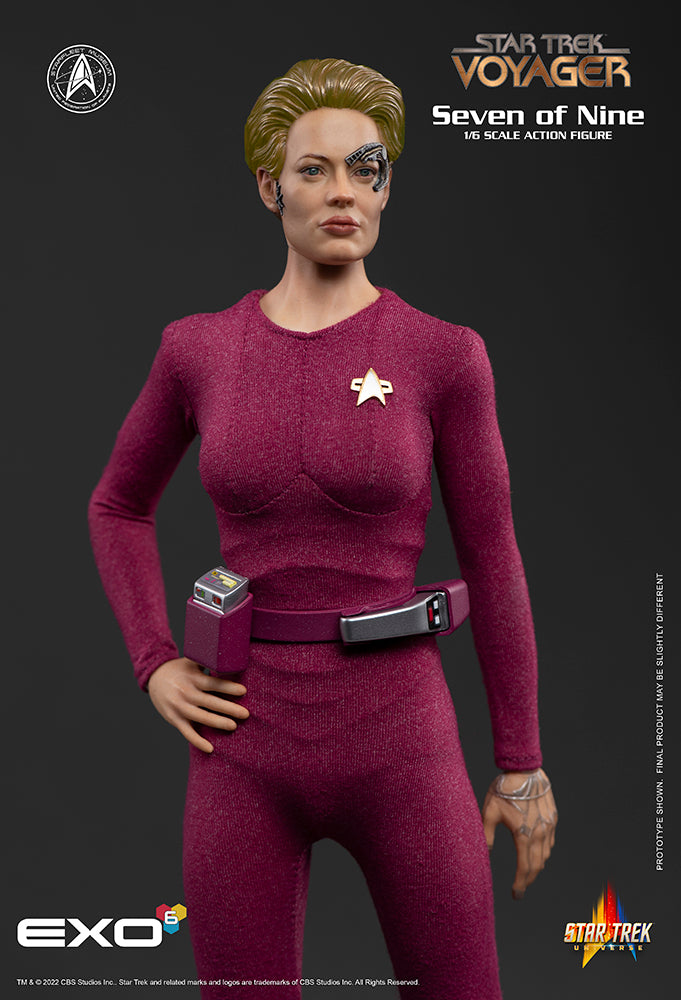 Description
She belongs in your collection of museum-grade collectible Star Trek figures! EXO-6's next release from Star Trek: Voyager is former Borg drone Seven of Nine, Tertiary Adjunct of Unimatrix 01; a human previously known as Annika Hansen until she was assimilated by the Borg Collective at the age of 6.
Seven of Nine became a foil for Captain Janeway, providing an alien perspective on the human condition, much like Spock or Data in previous Star Trek incarnations. Just like those characters, Seven became hugely popular, no doubt due in some part to the casting of Jeri Ryan as the naïve but alluring cyborg.
Seven went from trying to assimilate the crew, to becoming a member of the crew and was instrumental in helping find a way back to Earth.
This sixth-scale figure re-creates this iconic character in exquisite sixth-scale detail. Standing approximately 11.5 inches tall, every element, from her purple catsuit and matching holsters for phaser and tricorder to the Borg implants, is authentically reproduced. The original portrait sculpt of Jeri Ryan has an authentic, hand-painted likeness.
Seven of Nine is the first use of the originally designed EXO-6 female body, specifically created for this character. This perfectly proportioned articulated body has been 3 years in the making. Don't miss your chance to add her to your Star Trek to your collection today!
The Seven to Nine Sixth Scale Figure features:
Fully Articulated Body: More than 30 points of articulation allow the figure to be displayed in multiple dynamic poses, approximately 30 cm tall

Realistic Portrait: Seven's portrait is lovingly rendered by top artists, with an excellent likeness of Jeri Ryan. Each head sculpt is specially hand-painted

Purple jumpsuit: Meticulously researched, this outfit matches the pattern, and color of the original, recreated in 1:6 scale. A purple belt is included so she can wear the holsters for the tricorder and phaser. An authentically scaled communicator badge is permanently affixed. Built-in boots replicate the ones used in the original costume

Hands: A total of ten interchangeable hands are included so she can be displayed holding the tricorder, the Type II phaser, and the Compression Phaser rifle

Display Base: A hexagonal display base featuring the transporter pad will provide additional support for the figure. Two different inserts for the floor of the base can represent the transporter pad or the center of the transporter array

Autograph card: An informational LCARS card that can be used to get an autograph from the performer and displayed with your figure.
Equipment:
Type II hand phaser: The phaser can be worn in a holster that magnetically attaches to the belt

TR-590 Tricorder X: This standard tricorder can be opened or worn in a holster

Phaser rifle: Compression Phaser rifle used by the Voyager crew

PADD (Personal Access Display Device): the data display device used on board Voyager